Overview
Leadership New Albany is a community leadership development program offered by the New Albany Chamber of Commerce to existing and emerging leaders. This 8-month program takes participants on a journey to increase their knowledge of New Albany's past and present, and gain a better understanding of the New Albany business, economic, civic and government landscape. Local leaders share business and leadership insights through presentations, interactive sessions, panel discussions and behind-the-scenes tours.
Criteria
The ideal participant is a mid- to high-level leader with significant career and community achievements. Leadership New Albany seeks applicants who are willingly to commit the time, energy and resources necessary to actively participate in, and graduate from the program.  The goal is to graduate leaders that are knowledgeable and informed about issues that affect New Albany.
Commitment
Attendance is required so that the entire class receives a meaningful experience from their investment. Class members and their employers must be willing to commit the necessary time to fully participate in the program. To graduate, a participant may not miss more than one session and continued enrollment is contingent upon your company remaining in good status as a Chamber member and your continued employment with such member.
Sample Curriculum
Community Master Planning
Local Government
Economic Development
Service
Health & Wellness
Education
History, Arts, & Culture
Diversity
2022 Class Schedule
January 19, 2022 8:00am-5:00pm
February 16, 2022 8:00am-3:00pm
March 16, 2022 8:00am-3:00pm
April 20, 2022 8:00am-3:00pm
May 18, 2022 8:00am-3:00pm
June 15, 2022 8:00am-3:00pm
July 20, 2022 8:00am-3:00pm
August 17, 2022 8:00am-3:00pm
*Dates subject to change
Application Process
The application period for the Class of 2022 has closed.
Questions
Contact office@newalbanychamber.com or call 614-855-4400.
LEADERSHIP NEW ALBANY CLASS OF 2022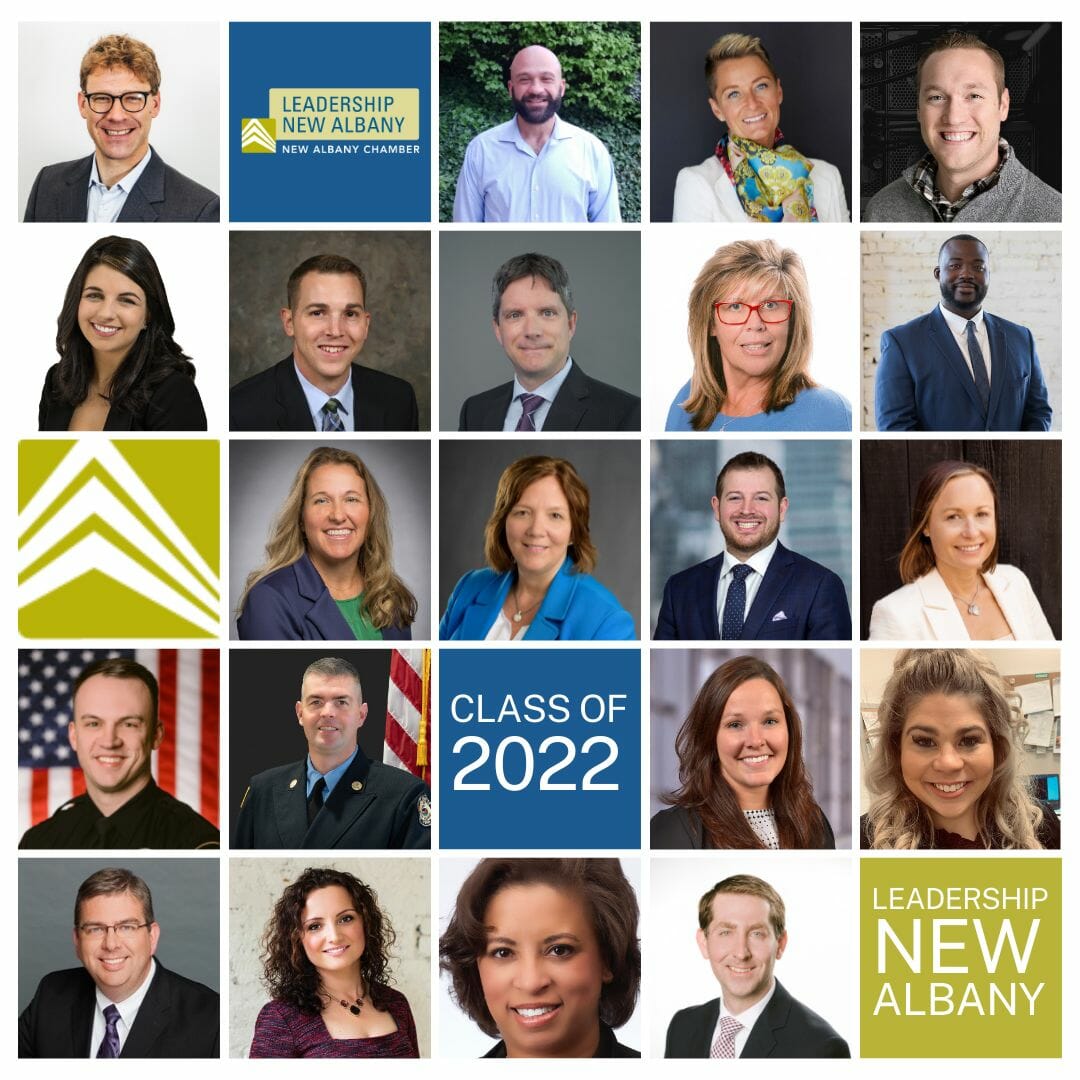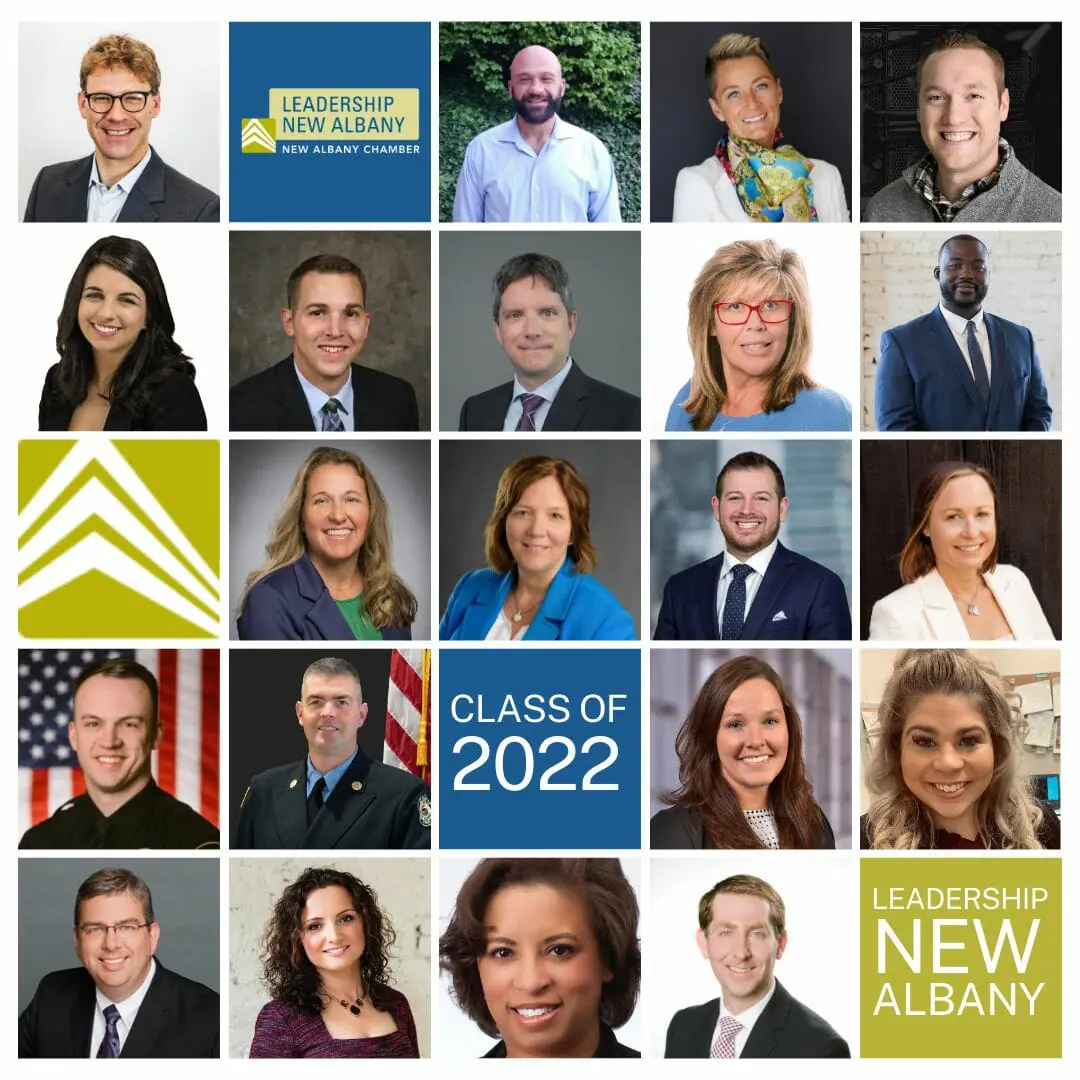 LEADERSHIP NEW ALBANY CLASS OF 2022
Ryan Burley
Branch Manager New Albany, Columbus Metropolitan Library
Bobby Covitz
Executive Director, Temple Beth Shalom
Angela Douglas
Executive Director, Healthy New Albany
Jake Epling
President, Compass Business Group
Emily Ferguson
Director of Operations, The Raines Group | HER Realtors
Jeremy Fleming
Financial Advisor, Edward Jones
Charles Galaise
Vice President Research & Innovation, KDC/One
Angie Hobart
Public Services Coordinator, City of New Albany
Anton Johnson
Manager of Operations, OhioHealth
Amanda Kubinsky
Senior Director Human Resources, Bob Evans Farms
Lori Lofton
Assistant Superintendent, New Albany Plain Local Schools
Daniel Martin
Vice President, ServiceMaster
Kristin Mathers
Chief Human Resource Officer, Commercial Vehicle Group
Ian McCord
Detective, New Albany Police Department
Chris Pabst
Captain, Plain Township Fire Department
Jessica Pfister
Director of Operations, OSU Outpatient Care New Albany
Taylor Rodgers
Director of Sales, Courtyard by Marriott New Albany
Michael L. Sawyers
Superintendent, New Albany Plain Local Schools
Bojana Simic
Owner, AcademyOne Childcare & Preschool
Danielle J Sullivan
Regional Data Site Coordinator, Meta
Drew Turner
Deputy Finance Director, City of New Albany